Apocalypse Cow Recording - June Newsletter - www.callthecow.com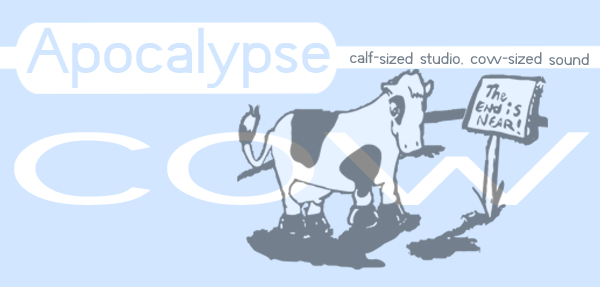 Happy Flag Day! -



NEWS

---
Construction is well underway around here. We've made some major improvements already and are still planning more. For the most part we've been able to keep things running around here despite some temporary dust. Thanks everyone for all your patience so far. We're hoping to get some much needed updated pictures up very soon.
Rob Kleiner and Kevin Gibson of TUB RING - have started a new band called 3,2,1 Activate! and are auditioning guitarists. Anyone applying needs to be able to tour non-stop, and be ready to be rich and famous! Activate already has a pretty sweet record deal, booking agent, and managment. Interested parties should email: deliriumpractice@gmail.com
The poll results are in from last month. The question, "What's your definition of making it?" It looks like most of you feel that getting signed to a major label is when you'll consider that you've made it. Now for this month's poll:
"What's the first album that you fell in love with?"
Be sure to check out the homepage to cast your vote.


WHO'S in the RECORDING STUDIO
---
The band Soap from Peotone, IL is finishing tracking for their new album to be released on Virginia based label Digitone Records. Soap's jam band styling blends well with their fun, experimental attitudes. They get a good groove going and then they expand on that with their technical prowess and lush harmonies. Their songs range from the typical jam to tangos, rock ballads, rumbas and classical jams. Members include Ross Taylor (vocals/bass), Skyler Krapf (piano/back vocals), Erich Krapf(guitar), and Dave Rehfeldt (drums/back vocals). Find out more about Soap at www.soaptheband.com.
Greg Boerner is still making frequent stops at The Cow to continue work on his new album. It's coming along great and will be a real show stopper when it's finished. Visit him at www.gregboerner.com.
Mixing for Bluebottle is just about finished. This album, "Bet it All on Red" is going to expand the horizons of today's college music. Bluebottle has the indie rock mentality of going out there and promoting themselves nonstop, but their music goes beyond that and incorporates styles of all genres and various backgrounds. Find out more about them at www.blue-bottle.net.
And who could forget Gary Landess who also made it in this past month. He's putting finishing touches on his songs and getting ready to release his first ever album.

For more information on any of these artists, contact us at news@callthecow.com



JOKE OF THE MONTH
---
Q: What do you call one cow spying on another cow?
A: A steak out!

Send in your favorite (clean) cow joke to news@callthecow.com and if we use it we'll link to you.


CONTACT INFO
---
For booking information, new sampler CD, or anything else, contact us at.
record@callthecow.com
www.callthecow.com
(630) 897-9023
For Past Newsletters follow this link

SUBSCRIBER INFO
You are on this mailing list because you have contacted Apocalypse Cow in the past. If you wish to be removed from this list reply to this e-mail news@callthecow.com with "remove" in the subject line. If you wish to add someone else to the newsletter, reply to this e-mail with the person's address to be added.