Iso-Multiplexor ( Guitar Splitter / DI )-
FBG Iso-Multiplexors are phantom-powered transformer splitter boxes that output a balanced DI along with 2 unbalanced guitar level outputs for amps. Each output is isolated with tranformers.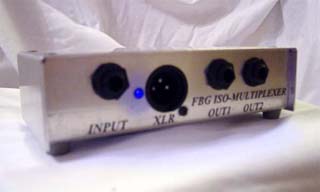 This little beauty is a godsend for recording guitars, giving a transparent DI signal for unlimited re-amping capablities later, and 2 more signals can let you cram more amped guitars in the original tracking. Runs right off your +48v from the console, no more swapping batteries or dealing with line lift switches due to poor grounding.

Available for $100 from our shop. Currently out of stock, please contact us if you are interested in ordering one and it can be custom built for you.