COW-BUCKS - place an order here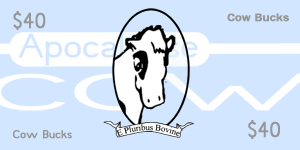 What better way to say "I Love You" than the gift of music. Our Cow-Bucks are gift certificates for recording time. They are great Birthday and anytime presents. They can also be used to save up cash for recording; when you get some money, trade it in for Cow Bucks and you won't be tempted to spend on wine, women and s. . . err, at least on the wine and women part.

Order Cow-Bucks by calling (630) 897-9023, or e-mail record@callthecow.com, or order online at our shop.
We now take VISA/Mastercard and Discover.
Cow Bucks are always paper gift certificates and will be mailed within a week. For the Chicago area you could get your Cow Bucks within two or three days. For other arrangements please call or email directly.